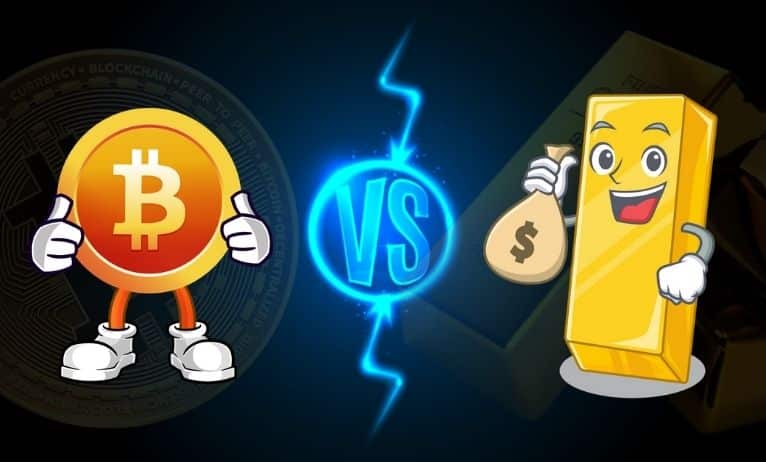 Diversify Portfolio In 2021 With Both Gold And Bitcoin
Diversify Portfolio In 2021 With Both Gold And Bitcoin
Current Crypto Market Scenario
According to crypto experts, cryptocurrency volatility from mid-2020 to the present day strikes a familiar note to the 2017 trend. Since the Bitcoin (BTC) mining monopoly is controlled by a few 'hashing' companies, the public sentiment could shift to other cryptos like Ethereum (ETH) and Dogecoin (ADA). Major companies that have approved cryptocurrencies for payments on their platforms include Tesla, Microsoft, Starbucks, PayPal, and Etsy. 
Bitcoin, which drew major investments till March, became a liability after it dropped 30% in April and touched $30,000 in May. With a current price of around $37k and a market cap of $690 billion, BTC is nowhere near its all-time high of $64,829. This might veer investors to look at other investing options.
Gold Market
In contrast, Gold prices have remained more or less stable over the six months with minor fluctuations. On December 14, 2020, Gold prices stood at $58.99 per gm, January 07, 2021 ($61.60 per gm), February 07, 2021 ($58.33 per gm), March 07, 2021 ($54.86 per gm), April 07, 2021 ($55.90 per gm) and is likely to touch $59.02 per gm by May 09, 2021. Macro trends suggest that Gold has steadily risen in value over the last 5-6 years: October 03, 2016 ($42.22 per gm), June 02, 2017 ($40.99 per gm), February 05, 2018 ($42.87 per gm), March 15, 2019 ($41.88 per gm), March 05, 2020 ($53.35 per gm) and June 01, 2021 ($61.06 per gm).
Will Gold Outperform Bitcoin in the Near Future?
Since the US dollar could touch the January lows of 89.20 anytime soon, and if this happens, it could be a fillip for precious metals, including Gold. On May 19, Gold cleared the 200-day moving average and was above the intermediate trendline. The preceding 8-month decline in this precious metal battered the sentiment, and investors saw a loss of interest in Gold. In late May, it came close to the resistance of $1878, inching up to $1920 per ounce towards the end of the month, and could see a $2000 target towards the end of July or August. On the other hand, BTC continues to remain in the middle of a parabolic-like bullish trend.
Buy Crypto or Gold? or Both?
Gold is a tangible commodity and is a proven investment bet hedged against market uncertainties. Because people worldwide want Gold, it has the same price globally as opposed to Bitcoin, which sees significant fluctuations. Diversifying your investment portfolio into Gold might seem like a good strategy. On the other hand, BTC is a virtual saving that has grown by value considerably over the last 12 years, albeit with risks if you are looking at the short term. Bitcoin is a hard investment commodity right now because its volume is fixed and is mined by the use of complicated computational algorithms. For 2021, it would be wise to diversify your portfolio with both Gold and BTC.


Introduction The UAE has become an attractive destination because of its liberal vis…