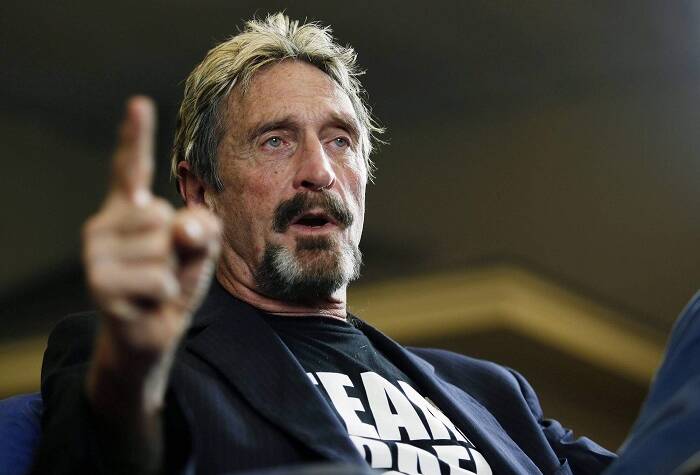 Home
Altcoin News
John McAfee Claims That Bitcoin Will Hit $1 Million By 2020 End
John McAfee Claims That Bitcoin Will Hit $1 Million By 2020 End
John McAfee, the founder of McAfee, has been making bold statements on the future of Bitcoin. He has claimed that by the end of 2020 each unit of this cryptocurrency will reach a worth of $1 million. He is a known businessman and computer programmer. A couple of years ago, McAfee said that the price of one bitcoin would reach around $500,000 in 2020, by the end. Going ahead, he also said that if this fails to happen, he will go ahead and do something that none of us have predicted.
All crypto observers know what last year has done to the market and how the market has gone into the bearish space and yet not showing 100% sign that it will be out of it. But, the claim made by John McAfee is indicating an exact opposite (positive) trend in the coming future. He seems unaffected by the current and past market trend.
John McAfee recently tweeted that based on maths he believes that it is impossible that BTC would be anywhere below $1 million by 2020 end. Last year, Bitcoin lost around 80% of its previous market value reaching as low as $3,800 from $17,500 in December. This fall unexpected for many crypto lovers as just a year prior, Bitcoin price was around $20,000.
Believers claim that the price of Bitcoin can be reached by making a multiplication of the number of holders to the amount worth $7,000. Here it $7000 is maintained as a constant and there are around 3 billion people who own bitcoin tokens. With this assumption, each unit of Bitcoin will be worth $1 million.
People are claiming many things, some are expecting a better future, while are skeptical about the existence of the positive market. Overall there is a suspicious environment, and most of the crypto observers are shying away from making any extreme positive claims. But not John McAfee.
The truth of the present moment is, the market is far far away from the predicted huge numbers as the actual numbers of active users are about 7 million. So, to be able to reach the predicted number of the users the Bitcoin adoption will have to increase rapidly to be able to reach the market value of $1 million/unit of bitcoin by the end of 2020.
In case, McAfee wants his prediction to become a reality, he would have to wait and pray that billions of people purchase bitcoins and maintain them for two years. If not, it might his predictions would be treated as baseless and it would be "mathematically impossible" for bitcoin to reach $1 million by the end of 2020.
Building a career in the crypto industry appears realistic and optimistic, as there is a d…