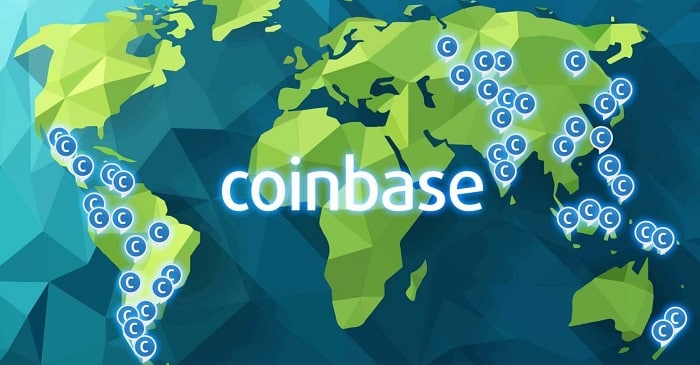 Home
Cryptocurrency News
Coinbase Launches Crypto-to Crypto Services across 11 Countries; India, Argentina, Peru, New Zealand and Others to benefit from the Service
Coinbase Launches Crypto-to Crypto Services across 11 Countries; India, Argentina, Peru, New Zealand and Others to benefit from the Service
Coinbase, the digital currency exchange, based in San Francisco, California used to offer crypto-to-crypto conversion and trading services to 42 countries throughout the world. Earlier it expanded its services to countries like Iceland, Gibraltar, Andorra, Lithuania and Isle of Man.
Slowly Coinbase is growing its expansion service, reaching it across 53 countries. Now the customers from these 53 countries will be able to use Coinbase and its crypt-to-crypto conversion and trading services.
The news of expansion was revealed by the Coinbase exchange through a blog post on Wednesday; crypto-to-crypto exchanging services will be available to countries such as New Zealand, Hong Kong, Peru, Argentina, Mexico, India, Chile, South Korea, Mexico and Indonesia. Two Coinbase platforms will offer the service namely Coinbase Pro and Coinbase Consumer. However, in Coinbase reviews, you will get more information regarding Coinbase Pro services, other account types and charges.
Good news for cryptocurrency enthusiast of Latin America and Southeast Asia. The Coinbase customers from these newly added countries will be able to use the crypt-to-crypto services; they can perform various trading services such as to store, buy and sell, send and receive cryptocurrencies. They can trade cryptocurrencies on Coinbase.com and Coinbase Pro respectively. Users can even make use of Coinbase app from their smartphone iOS and Android to buy and sell digital currencies.
Coinbase Official stated: "Direct trading between cryptos is increasingly the new norm and in the last year has overtaken traditional fiat to crypto trading across the globe. Millions of Coinbase customers can now securely and quickly trade between different cryptos and send crypto off-platform at their convenience."
Earlier, the crypto-to-crypto service was only available in the US, and the feature supported six cryptocurrencies namely Ethereum Classic (ETC), Bitcoin (BTC), 0x (ZRX), Ethereum (ETH) and Litecoin, however Coinbase had promised via a web-blog post that it will be expanding the crypto conversion services to remaining 34 countries.
The blog post also mentioned that the expansion was a part of the company's mission to build an open financial system for the world. Cryptocurrency space is changing from the 'investment phase' to 'utility phase' that could open a way for new use cases.
Further exchange noted: "This could take the form of decentralized versions of traditional financial services like lending or micropayments or truly novel crypto applications that no one has even though of yet." Stating, "The ability to convert from one crypto to another will form the backbone of this new decentralized economy."
Coinbase spokesperson informed that depending upon the demands and requirements of the countries, Coinbase may add fiat to crypto service. The company is planning to add crypto-to-fiat conversions to a few markets.
Most of the trades that are carried out on Coinbase are through crypto-to-crypto, Which is a good way to start trading with cryptocurrencies. If someone sends you bitcoin, you can now accept the payment via Coinbase account.
The new Coinbase feature will allow customers to send and receive currencies quickly and also convert them to local currency. Coinbase has made various developments, added support to Augur (REP), Maker (MKR) and EOS and is enhancing its cross-border payments.
Introduction As a global financial hub, Singapore has seen tremendous growth in the …