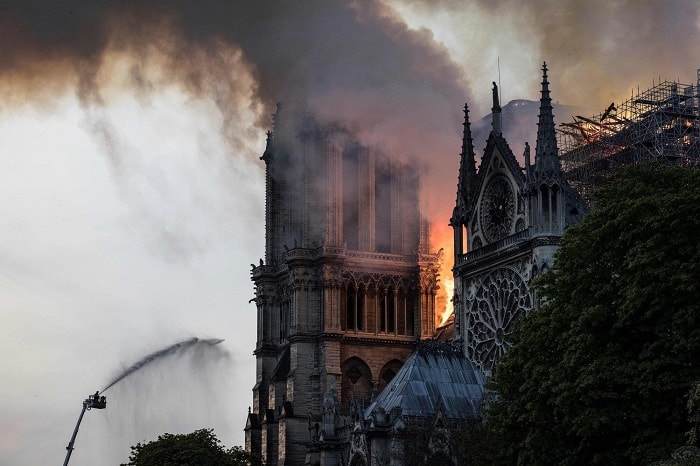 Home
Bitcoin News
Largest Bitcoin Exchange Binance Wants to Rebuild Notre-Dame Cathedral; Launches Digital Fundraising Campaign
Largest Bitcoin Exchange Binance Wants to Rebuild Notre-Dame Cathedral; Launches Digital Fundraising Campaign
One of the world's largest bitcoin exchanges, Binance is now calling out to crypto communities to make donations to rebuild the Notre-Dame Cathedral.
Binance Charity on April 16th revealed the information of a donation program to help in reconstructing the Cathedral. Binance is the first digital currency company to start the campaign named "Rebuild Notre Dame."
A few days back, the world-famous Notre Dame Cathedral of Paris caught fire, and the architecture was significantly damaged. The news circulated within no time and grief starting pouring out from across the world. Binance Charity responded to this incident by stating "great moment of loss for culture, arts, and history shared by all humankind."
A huge fire damaged Notre Dame Cathedral a 900 years old, historic Catholic church of France. The France investigation officers are still finding the reason for the raging fire.
Binance launched the new donation campaign on its charity platform. The charity platform was started by The Blockchain Charity Foundation (BCF), a social project of the firm.
Changpeng Zhao, Binance CEO has request crypto industry to help in restoring the historic Cathedral and make people believe that Bitcoin can do good things and can be used for a good cause.
He stated: "If we push crypto to the last mile of the Cathedral building. It's the ultimate adoption. Bring crypto to religion."
Donation Campaign Supported by Binance
The fire broke out on the roof of the Cathedral on April 15th in Paris. The incidence has damaged the interior and the structure of Notre Dame Cathedral. This incidence has shocked the whole world.
Crypto users can send their funds to 'Rebuild Notre Dame' to restore the masterpiece. The amount collected will be handed down to the concerned officers in France. The campaign received 28 donations mostly through Ethereum (ETH), Binance Coin (BNB) and Bitcoin (BTC).
Binance exchange was not the only one requesting for donations, Twitter user and journalist from France, Gregory Raymond also uploaded a QR code so as to generate Bitcoin donations and help build funds to rebuild the Notre Dame Cathedral.
Wealthy people are extending their hand to donate, and one of them is Bernard Arnault, LVMH CEO, who has even decided to give millions of dollars to the Cathedral.
French president Emmanuel Macron has even urged people to help rebuild the historic church after which people started raising funds.
Binance, the third largest cryptocurrency exchange, is showing its commitment towards the social culture and the one to donate in Bitcoins. As of now, over 1.7 BTC donation been made, worth to around $7650 on current prices.
Even earlier to this, Binance had launched a blockchain based donation platform and introduced several cryptocurrency based donation campaigns. The most recent donation campaign is to help school going students of Rwanda, Ethiopia, and Kenya.
On the fundraising pages: "BCF launched a crypto-fundraising channel. We call on our colleague in the crypto space to show your support for our campaign to Crypto-Rebuild Notre Dame."
Introduction The CBN has moved to develop a regulatory framework for cryptocurrencies. In …