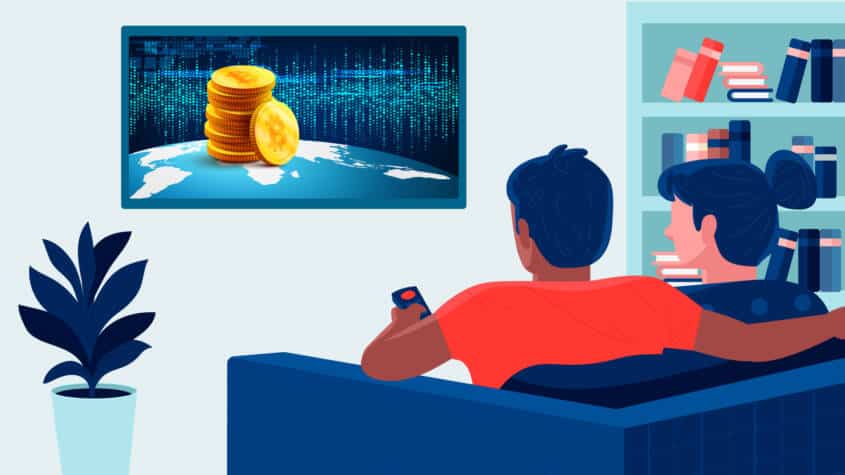 Bitcoin Movies, Documentary & Series to watch in Quarantine
Bitcoin is itself a unique story that fits into this strange, borderless realm of human potential. To this day, its creator, Satoshi Nakamoto, is anonymous. Bitcoin's philosophy is revolutionary, and the cutting edge technology behind it is the most important invention since the internet. A good documentary blends the real and the surreal, inspiring us to look within ourselves and ponder the reality of our own limitations. The documentaries we've listed here do that exactly. Read on to know more about them.
Bitcoin Documentaries That You Can Watch in This Quarantine
I am Satoshi
"I am Satoshi" is a documentary that runs 52 minutes, created by Tomer Kantor. This documentary won the "Most Creative Video" in 2014 at the blockchain awards. The director uses an investigative approach to explore the relationship between the financial system and Bitcoins. Kantor emphasizes the differences between cryptocurrencies and traditional banking. 'I am Satoshi' asks whether bitcoin, an open-source technology, can usher in game-changing innovation within the outdated currency, trade, and payments systems.
Banking on Bitcoin
This 83-minute long documentary looks at what the decentralized currency of the internet is and how it will shape people's lives. It explores how bitcoin has grabbed the attention of a curious public and the ire of the regulators. The film shows the players who are defining this technology and the ideological battle between fringe utopists and mainstream capitalism. If you want to know why so many people believe in the future of bitcoin, watch Banking on Bitcoin.
The Rise and Rise of Bitcoin
The Rise and Rise of Bitcoin follow the story of Daniel Mross, a computer programmer and avid Bitcoin enthusiast who mines Bitcoin in his basement. Daniel discovered Bitcoin in 2011, and he and his brother set out to create a documentary to help people understand what Bitcoin means for the world. The documentary follows Daniel's experience-from purchasing goods with Bitcoin from vendors to buying more rigs for his basement mining operation. The Rise and Rise of Bitcoin also document the highs and lows of bitcoin over the years, as well as the events that have made headlines for the cryptocurrency. The filmmakers also take an in-depth look at what they call the "largest social-economic experiment ever conducted. With Daniel as our guide makes Bitcoin personal and accessible. Those who have been part of the bitcoin community for some time will be the first to say that bitcoin's journey can be likened to a roller coaster ride: unpredictable highs and lows, with a number of surprise twists and turns along the way.
The Blockchain and Us
One of the revolutionizing inventions developed by a mysterious man named Satoshi Nakamoto is blockchain technology, which was invented to solve impossible numerical problems in the world of finance. "The Blockchain and Us" documentary explores the story behind the development of blockchain and interviews cryptologists, software developers, consultants, entrepreneurs, venture capitalists, and few authors from Switzerland, North America, Australia, and the UK. Could the blockchain be an invention that's as revolutionary as the Wright brothers taking flight? This award-winning documentary is short on technical specs about the blockchain but long on hope, inspiration, and application. Through a series of mini-interviews, industry leaders in business, financial services, technology, and government discuss the various ways in which blockchain technology can benefit and advance society in areas of trust, identity protection, and security while solving issues of financial equality. You won't learn how the blockchain works here, but it's great to see so many people from so many different industries be excited about the future of blockchain.
The Bitcoin Gospel
The documentary asks important questions like "Is Bitcoin the blueprint for a bankless currency, or the biggest pyramid scheme ever?" What if we could create money ourselves, without the need for banks? Money that can't be forged that will appreciate rather than depreciate and that can be used worldwide without transaction costs. It exists, and some people consider it to be the digital version of precious Gold: Bitcoin. The Bitcoin Gospel is a 48-minute documentary produced by Indigenous Films in 2015. It documents the purpose of having bitcoin, the 2008 financial crisis, and why central banks are afraid of bitcoin. The documentary features some popular names in the blockchain community, such as Andreas Antonopolous, and looks at whether it is possible for people to create their own money that could potentially replace banks. Like The Rise and Rise of Bitcoin, The Bitcoin Gospel zooms in on select individuals in the Bitcoin space, including Roger Ver, a Bitcoin evangelist; Marshall Long, one of the first Bitcoin miners; Brett Scott, a financial activist; and Izabella Kaminska, a Financial Times journalist. This documentary gives us a sense of how Bitcoin works on the ground, its origin story, and how it can be a major disruptor in global economics — but it also brings up some of the major drawbacks of the system as well.
The best thing about this documentary is that it brings Bitcoin down to an everyday level through individual stories.
The Bitcoin Experiment
The starting point for "The Bitcoin experiment" documentary is whether Scandinavia is ready for Bitcoin. Filmed by a drone, the 39-minute long documentary takes viewers on a road trip across Scandinavia in a bid to understand more about bitcoin and other cryptocurrencies. Amund Sjølie Sveen meets and interviews people who use Bitcoins, Skeptics, and enthusiasts. The trip ends at the small community of Boden in Norrbotten in the north of Sweden. Here he finds what could be called the Heart of Bitcoin.
Magic Money
With the global financial instability making daily headlines, people are withdrawing money from the banks. This documentary shows a future where control of the money is taken away from global financial institutions and given back to people. With global financial instability in the headlines daily, more and more people are taking their money away from the banks. Is Bitcoin the only way forward? Why are places like the United Kingdom and the United Arab Emirates gearing up for a new world of money? Magic money paints a future where control of our money is taken away from global institutions and given back to us. Eye-opening!
The Bitcoin Story
"The Bitcoin Story" depicts a fast-paced series of discussions and conversations regarding the invention of Bitcoin and its technology, its prospects of transforming the world of finance. Some of the perspectives of leading visionaries, technologists, entrepreneurs, and venture capitalists are also seen in the documentary. The documentary is a fast-paced series of conversations about Bitcoin's founding, core technology, libertarian politics, and prospects of transforming financial services. The leading technologists, visionaries, entrepreneurs, and venture capitalists offer their perspectives.
The Bitcoin Phenomenon
"The Bitcoin Phenomenon," a 2014 documentary, focuses on Bitcoin's history, ideologies, and the conflicts of early adopters of Bitcoin. The 44-minute documentary features leaders like Gavin Anderson, who discusses how he helped Satoshi Nakamoto and how he was convinced that Bitcoin is the future after reading the white paper when it was published.
Bitcoin in Uganda
"Bitcoin in Uganda" is a 5-minute short movie that shows how Bitcoin can change lives and empower people in emerging economies. Ronald, a student from Uganda asks his family, located in the US, to send him money for tuition payments. Ronald's sister is advised by her husband to start sending Ronald bitcoin after enduring frustrations with expensive and slow legacy money transfer systems such as MoneyGram or Western Union. Unlike these systems, which days to process, sending Bitcoin is a matter of minutes.
However, if you get bored by watching bitcoin movies, then you can also binge on finance movies, as from doing that you can learn many things from investors' mistakes and also how they solve it!

Final Thoughts
Whether you are an investor looking to invest in digital currencies like Bitcoin or simply curious, these Bitcoin documentary films will give you a clear idea about Bitcoin's history, potential, and the impact it could have on our lives in the future. Cryptocurrency and the blockchain will continue to make headlines for years to come. This list features video production by amateur and expert filmmakers who have a keen passion for how bitcoin can impact the world. Watching them will make you understand what the technology can do for you and how you can steer clear of the perils behind this extraordinary form of money. As Bitcoin is gaining attention from all the countries & governments, it is gaining market capitalization as well. Many investors and Bitcoin supporters are making a profit from Bitcoin trading. If you are also willing to make a good chunk of profit from Bitcoin trading then you should check the Bitcoin Code platform. It is one of the most trusted and secure automated trading platforms. Readout Bitcoin Code Review to know more and get in-depth knowledge about the unique platform.

Introduction The CBN has moved to develop a regulatory framework for cryptocurrencies. In …