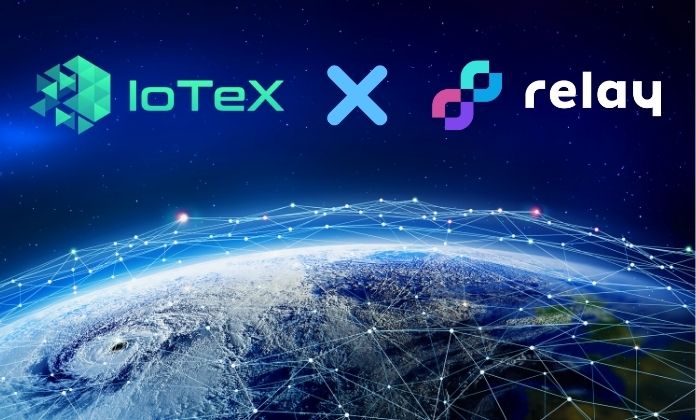 IoTeX-RelayChain Partner to Connect Real World with Blockchain
The IoTeX and RelayChain groups excitedly announced a significant partnership to connect a variety of EVM-compatible chains to the IoTeX system. Shiden, Binance Smart Chain, Moonriver, Ethereum, Fantom, HECO, Polygon, Avalanche, and many other current and upcoming systems will use RelayChain to exchange high-value assets into the IoTeX System. The relationship will link the above networks' indigenous utility tokens and the tokens created by MCN Ventures.

IoTeX is a decentralized system of consumers, programmers, and businesses that control and use the IoTeX system as a whole. IoTeX currently supports an ever-growing network of smart devices, decentralized applications, and digital content as an EVM-compatible "Layer 1" chain. The IOTX token powers system operations and smart contracts. It also allows anybody to become a stakeholder in the IoTeX System. Since April 2019, the IoTeX Platform has been fault-free and is managed independently by >60 Representatives, including CoinGecko, DraperDragonm, and Blockfolio.

RelayChain allows quick and safe token exchanges between the biggest and most popular blockchains. Partnership networks and dApps interested in expanding their coverage beyond a single chain can use the system's Bridging as a Service (BaaS) feature. Moonriver, Shiden, Ethereum, Polygon, Binance Smart Chain, Avalanche, Fantom, Huobi ECO Chain, and IoTeX are all supported by RelayChain at the moment. In the coming years, numerous new EVM compliant connections will be introduced. Liquidity suppliers will be compensated in the native gas tokens of the chain where they provide liquidity, which is a distinctive characteristic of RelayChain.

IoTeX will be using blockchain technology to connect gadgets and people in the physical universe, while RelayChain will connect IoTeX to certain other blockchain systems. Thanks to this alliance, tokens from almost all the main blockchain systems will be able to connect and engage with the actual world, rather than just the digital world. This is where DeFi and MachineFi collide. The bridge has already been linked to the IoTeX system using RelayChain. RelayChain bridged token liquidity pools and farms will be available shortly on MinMax, ZoomSwap, and mimoswap.

Introduction As a global financial hub, Singapore has seen tremendous growth in the …