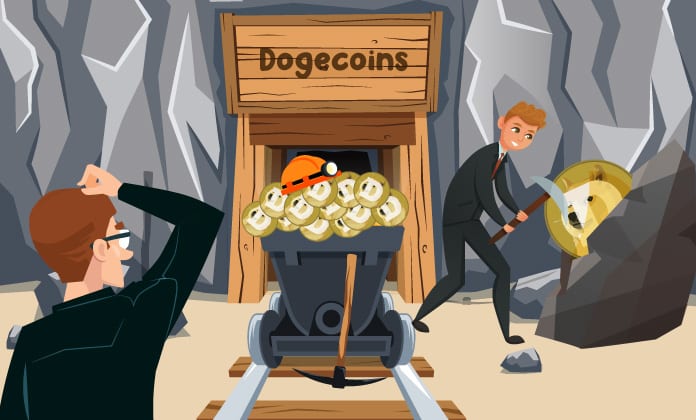 How Many Dogecoins Can Be Mined Per Day?
Introduction
Dogecoin mining became more profitable in 2021 and has achieved the highest turnover since early 2018. This was followed by an increase in crypto-monetary activity following Tesla CEO Elon Musk's statements on Twitter stating that people should invest in this digital currency. During cryptocurrency mining, like bitcoin mining, a computer attempts to solve complex logic puzzles to validate blockchain transactions. When this is finished, the miner earns a block reward for the cryptocurrency. The underlying dynamic is that computers with greater computational capacity – or hash rate will probably solve more cryptocurrencies.
Dogecoin – History
In 2013, Jackson Palmer, an Australian, and Billy Markus, an American, became colleagues. Eventually, they became friends because of their interest in cryptocurrencies. But they also considered the whole thing to be too serious, so they decided to set themselves up. As crypto-monetary excitement rose, they became tiresome about how serious people treated the idea. Thus, Dogecoin was born.
Understanding Dogecoin Mining
Dogecoin (DOGE) is an open-source cryptocurrency, peer-to-peer. It is regarded as an altcoin and a nearly satirical coin. Dogecoin, which was launched in December 2013, is the emblem of a Shiba Inu puppy. Though it seemed to be a prank, the blockchain of Dogecoin remained worthwhile. As per the experts dogecoin projections give positive sentiment, it has a high price and infinite supply, which uses a script algorithm.
Dogecoin Mining – The Process
There are three ways to mine Dogecoin that are accessible to all. They are:
Solo mining: The miner would have to pay a lot on high-end devices and service charges. The benefits go to the miner on the reverse side. While prefabricated units are cheaper, they do not offer similar high efficiency. One has to compete with millions of other miners. This makes it much more difficult for them to win block incentives. However, the profitability of Dogecoin mining increased in 2021.
Pool mining: Here, earning coins is easier, but one must share them with others. For beginners and people who want higher returns on savings, the Dogecoin mining pool is a convenient option.
Cloud mining: One could pay for cloud mining if they do not want to invest in new technology. It is a decent way to give Dogecoin mining to anyone who does not want to make much effort. Here, one has to rent computers from a data center. This can, however, be very risky. So, one must choose the data center carefully for cloud mining. The contracts for cloud mining are frozen in time. The prices of Doges could fall during the deal, and one may not receive an ROI.
Factors to Consider
The primary requirement is a computer with a Windows, Apple Mac, or Linux-based operating system and a fast internet connection to get started with mining. The machine's CPU and graphics card should be as powerful as possible. A Scrypt ASIC Miner designed to mine crypto-based currencies like Dogecoin would be another choice.
Is Dogecoin Mining Profitable?
Yes, mining Dogecoin is still profitable – based on 2.200.000.00 KH/s of mining machinery, energy costs, and the supplied pool and maintenance charges. Profit from mining can very rapidly change. The blockchain grows continuously, and the complexity of the Dogecoin increases and decreases over time due to the total calculation energy currently mining blocks and producing risks.
Conclusion
It all started as a joke, but soon Dogecoin became one of the friendliest cryptocurrencies. Over the years, Dogecoin has evolved as one of the top crypto coins for investments. One can either purchase them or mine them. In this article, the different means of mining Dogecoin have been outlined to develop an effective understanding of the subject.
Introduction The UAE has become an attractive destination because of its liberal vis…