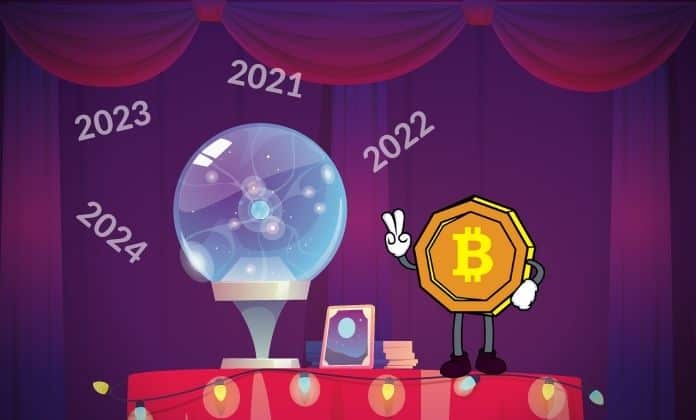 Bitcoin Price Predictions for Upcoming Years
Bitcoin is a highly popular digital currency that has taken the world by storm because of its huge returns. It is a decentralized currency which means that no bank or government has authority over it. It has emerged as the first choice for several investors because of its low transaction fees and the ability to give huge profits. This cryptocurrency has become so popular that it is one of the biggest reasons behind the launch of several other cryptos.
Current Price of Bitcoin
It might come as a shock to those who have little to no knowledge about Bitcoin, but the price of Bitcoin was around seven thousand dollars last year, and now it will cross the fifty-five thousand dollars mark very soon. I think that tells you a lot about the potential of Bitcoin and how it can change the fortunes of those who invest in it. The price of Bitcoin fluctuates multiple times in a day but that cannot overshadow the fact that its price is increasing at a good pace every day.
Bitcoin Technical Analysis and Price History
Technical analysis plays an integral role in predicting the price of a cryptocurrency, and the same works for predicting the price of Bitcoin. Fibonacci retracement trading plays a role in the technical analysis of Bitcoin, and needless to say, it has produced some great results. In this technical analysis, a trader takes the high, and low points of a cryptocurrency and divides it by the Fibonacci ratio. The outcomes help a trader in finding out the support and resistance levels. However, if you want to do the technical analysis, it is necessary to have complete knowledge about it and Bitcoin. There is no overselling to say that cryptocurrencies are volatile, and Bitcoin has the same story. At the beginning of the last decade, the price of Bitcoin was a mere 0.08 dollars which moved to one dollar the next year. It suddenly crossed the thirty-dollar mark in two months and then fell to two dollars in November 2011. The increase in the price of Bitcoin wasn't huge in the following year, but it crossed the thousand dollar mark in 2013. However, it soon started to crash and finished at 315 dollars in early 2015. The volatility was evident in the upcoming years, but the big change came in 2020 when it went from 7000 dollars to 54000 dollars in one year. That tells you a lot about the unexpected turns it has taken in the last decade, but the good news is that the price of Bitcoin is continuously increasing, and it is supposed to increase in the future.
What to Expect From Bitcoin's Price in 2021?
There are a lot of speculations around the performance of Bitcoin this year. Even though Covid-19 affects lives everywhere, it is not supposed to affect Bitcoin, and it will keep increasing. While some predictions say that it will cross the hundred thousand mark in 2021, some believe it can surpass every expectation by crossing the 200,000 and 300,000 dollar mark. In between all these predictions and expectations, the chances of Bitcoin touching the 400,00 dollar mark can not be ignored. You can make good profit from it if you trade with Bitcoin Era Trading Bot. You can check Bitcoin Era review to know more about this amazing trading robot.
Bitcoin Price Prediction for Upcoming Years
There is good news for traders and investors who have already invested in Bitcoin, and also, If you are looking to invest in Bitcoin, you will also be quite happy after listening to this forecast. According to many websites and traders, Bitcoin might cross the 500,000 dollar mark in the next three and four years. If everything goes according to the predictions, then there are high chances of it crossing the million-dollar mark in this decade.
Conclusion
That was our detailed analysis of Bitcoin, its past, present, and future. I know that many people are unable to trust Bitcoin because of the risk and volatility factor. However, as we said before, there is nothing to worry about because the future of Bitcoin looks very bright, and if you are looking to invest in it, then this is the perfect time to do that.
FAQs
1. Is It Worth to Invest in Bitcoin?
Yes, Bitcoin is worth investing in, and there are no arguments about that. Bitcoin value has increased at a steady rate in the last year, which is remarkable because of the pandemic. Bitcoin will grow more in the upcoming years, so it is a great idea to invest in it.
2. How Much Does It Take to Invest in Bitcoin?
There is no minimum amount required to invest in Bitcoin, and it depends on the crypto exchange you are going to use for crypto trading through Bitcoin.
3. Will Bitcoin Rise Further?
There is a noise among the traders that suggests that Bitcoin will witness a rise in its price, and as a result, it will give returns to the investors. So if you think that Bitcoin has reached its potential, then you are wrong because the best of Bitcoin is yet to come.
4. What Will Bitcoin Be Worth in 2023?
As we all know, Bitcoin has been unstoppable for the last couple of years, and its future looks bright. According to the speculations by traders and investors, the value of Bitcoin will cross two-hundred thousand dollars by 2023.
Building a career in the crypto industry appears realistic and optimistic, as there is a d…